Davide76

VIP

Numero di messaggi

: 6996


Età

: 44


Città e Provincia

: Chioggia (VE)


Attività

: libero professionista


Mi sento:

: Un deltaplano :)


Punti :

13072
321

il Gio 7 Apr 2011 - 23:34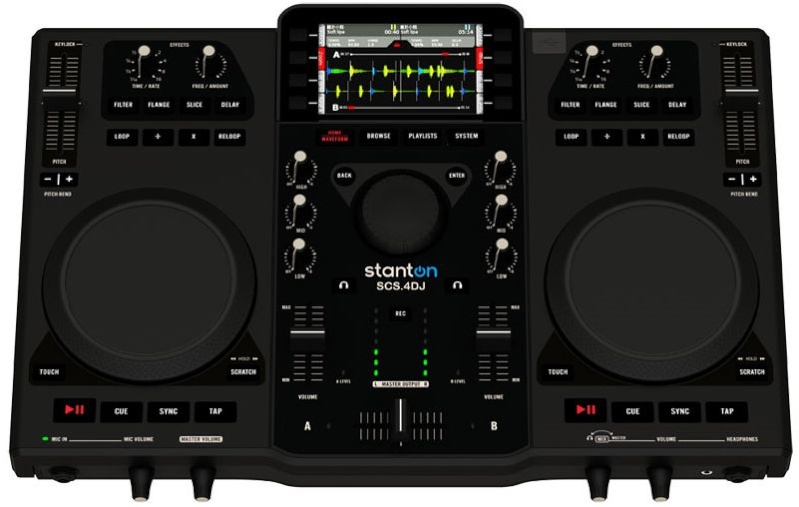 Stanton SCS.4DJ
Fully integrated computer, software and controller
No external computer is needed, the software is pre-loaded. Ready to go, right out of the box. Just add music and play.
FEATURES
* Ability to play and mix two tracks directly from the majority of mass storage devices
* Automatic Tempo and beat grid calculation allowing tracks to be synchronized quickly
* 4.3 " high resolution widescreen LCD with dual frequency dependant color waveform displays, makes visual beat matching easy
* Comprehensive Browse, Search and Sort capabilities presented in a simple and intuitive user interface
* 8 x "Soft" buttons allowing direct access to features, functionality and navigation
* 4 x "Direct Access" illuminated buttons, with a navigation section
* Dual high-resolution 4.75" touch-sensitive weighted platters, utilizing a high resolution scratch algorithm
* Dual built in effects unit functionality with full beat synchronization
* Record your mixes directly to WAV format files for sharing or distribution while you play
* Auto-DJ mode will mix your playlists automatically using the calculated beat grids
* Microphone input with high-headroom and low noise performance
* 60mm Pitch control, with pitch bend buttons and high quality keylock performance
* Multiple USB Connections (1 x Top, 1 x Rear, 2 x Base plus host connection for MIDI Controller mode)
* Transport controls featuring PLAY/PAUSE, CUE, SYNC and TAP tempo
* 1/4" Balanced TRS and Unbalanced RCA outputs, dual headphone outputs
* Internal Media Bay compartment for placement and connectivity of media storage devices
* Fully capable MIDI controller functionality
MIXING MADE SIMPLE
The Stanton SCS.4DJ is the first truly integrated DJ system offering advanced one-button automatic synchronization. The embedded computer system assists your mixing by automatically synchronizing the tracks at the push of a button. This advanced digital mix engine also allows the SCS.4DJ to be placed into "Auto-DJ" mode, where the unit will automatically mix the music in your playlist based on your chosen style of mixing.
MIX AND DJ FROM YOUR DIGITAL MEDIA LIBRARY
DJ directly from your digital media library located on your USB memory stick, hard drive or smart phone. SCS.4DJ supports most unprotected file formats including WAV, MP3 and AAC files. The layout is instantly familiar to the experienced DJ, and logical enough for any novice to grasp. As a mobile DJ, SCS.4DJ gives you the durability and flexibility you need to perform night after night, with an intuitive yet simple surface, easy access USB ports, and a rugged chassis.
BECOME MORE CREATIVE
SCS.4DJ's powerful one-button sync engine and built in tempo and beat grid calculations let you spend less time keeping things synchronized, giving you more time to be creative. The beat synchronized features including FX and Auto Loops will give you professional sounding mixes from your first mix out of the box.
RECORD CAPABILITY
Press the Record button and SCS.4DJ will record your performance to any mass storage device. Your recording can be shared between friends or used to produce a CD for distribution.
DECK CONTROLS
* 3 band EQ per channel, at DJ friendly crossover points with complete kills, and +6dB boost
* 4 Beat synchronized Effects per channel (Delay, Flange, Filter and Slice) with two parameter knobs for custom real time control
* Dual high-resolution 4.75" touch-sensitive weighted platters, with scratch, touch and fast forward/rewind functionality
* Individual 45mm volume faders for each channel with DJ friendly fader caps.
* 60mm Pitch control with bend and key lock functionality (with status indication)
* High-quality digitally-controlled 45mm cross fader with incredible durability and multiple fader curves to fit your performance style
* Auto Gain - automatically adjusts the volume of the loaded track to optimize playback quality
* Auto Loop – intelligently creates a beat synchronized loop from the current song position
* Loop Length – multiply and divide the length of the loop
* Reloop – automatically jump back to the last loop you used.
* Headphone Cue/Listen per channel (indicated by the headphone icon)
* Tri-Color input Level LED's showing deck volume.
* Large Play/Pause and Cue transport buttons
* Large TAP tempo button to correct BPM for non standard musical genres.
* Large Sync button located with the transport controls for instant beat matching of one deck to the other.
MASTER SECTION
* 4.3" high resolution widescreen color LCD with adjustable brightness
* 8 x "Soft" buttons allowing direct access to features, functionality and navigation
* 4 x "Direct Access" illuminated buttons, HOME/WAVEFORM, BROWSE, PLAYLISTS and SYSTEM
* High resolution navigation wheel with BACK and ENTER buttons for fast navigation of all screen based activity.
* 7-LED stereo master output meters, deck tri-color LED level indication.
* Record button – Record your mix directly to a mass storage device
FRONT PANEL
* Microphone Volume Control (with volume indicator)
* Master Volume Control
* Cue/Mix control, allowing to set the balance of Cue/Mix in the headphones
* Headphone volume control
INPUTS
* 4 x USB A ports supporting memory sticks, hard drives, smart phones or keyboard input for search.
* Balanced Microphone input with volume control
OUTPUTS
* Balanced 1/4" TRS Main outputs (+4dB)
* Unbalanced RCA outputs (-10dB)
* 1/4" stereo headphone output
* 1/8" stereo headphone output (clone of 1/4" output)
* USB "B" port (for MIDI controller mode only)
COMPUTER FUNCTIONALITY
* Use the controls on SCS.4DJ to control DJ software (MIDI controller mode)
* SCS.4DJ supports M3u playlists created by standard music librarian applications/devices.

Davide76

VIP

Numero di messaggi

: 6996


Età

: 44


Città e Provincia

: Chioggia (VE)


Attività

: libero professionista


Mi sento:

: Un deltaplano :)


Punti :

13072
321

il Ven 8 Apr 2011 - 12:52
FINALMENTE..!!!!!!!!!
Era ora che cominciassero a togliere di mezzo questi pc portatili , qualcuno deve avermi sentito dall'assu
Molto molto BELLO con un bel design e un bellissimo schermo a colori.
Con questo addirittura non usi nemmeno le pennette , e fornito di una memoria interna che vanno passati tutti i brani dentro , una figata stupenta.
Prima c'era l'idj2 che ritenevo l'unico prodotto veramente innovativo , ma adesso c'e questo che veramente comincerà a dare una svolta , diciamo che e un buon inizio per togliere di mezzo questi pc e software , e brava la STANTON

Carlo S.

Admin

Numero di messaggi

: 3746


Età

: 59


Città e Provincia

: Quartu S. Elena (CA)


Mi sento:

:


Punti :

10174
199

il Ven 8 Apr 2011 - 14:18
Belle novità dal Musik Messe 2011,,,quindi diciamo questo controller se ho capito bene lo possiamo usare senza pc,come se fosse una copia di cdj con mixer incorporato giusto?,ma volendo lo si può anche interfacciare ad un pc e farlo funzionare con un software per mix e cosi?,,Mi sembra un gran bel prodotto che accontenta sia il dj che predilige il feeling come se mixa in analogico,ma anche quello digitale,,almeno non si ha quella palla al piede dei computer,con alcuni problemi che ne derivano,,crasch,qualità audio pessima,ecc.ecc.
Davide76

VIP

Numero di messaggi

: 6996


Età

: 44


Città e Provincia

: Chioggia (VE)


Attività

: libero professionista


Mi sento:

: Un deltaplano :)


Punti :

13072
321

il Ven 8 Apr 2011 - 15:19
Ho dei dubbi che possa funzionare come controller , bisogna vedere se e midi , lo vedrei come un controsenso usare questo aggeggio come controller col pc in quanto di controller ne siamo strapieni.
Si lillicu questo da quel che capisco e creato appositamente per lasciare il pc a casa , in piu e dotato di memoria interna , per cui niente pennette , si butta tutto dentro e via , schermo da 7 pollici "non male"

STANTON ha voluto fare un prodotto proprio che si distingua , e se funzionerà a dovere credo proprio che ci e riuscita , e credo anche sia la prima a fare questo prodotto.
Io son convinto che il pc nel mondo della disco sia solo di passaggio , e una moda che sarà destinata a sparire con il tempo , e di questi controller son sicuro che questo e solo un'inizio , e ne faranno di piu innovativi e performanti , magari anche piu grandi e con schermo piu grande.
Questo credo sia l'unico prodotto che veramente si potrà definire ALL IN ONE

Davide76

VIP

Numero di messaggi

: 6996


Età

: 44


Città e Provincia

: Chioggia (VE)


Attività

: libero professionista


Mi sento:

: Un deltaplano :)


Punti :

13072
321

il Sab 9 Apr 2011 - 10:34


Permessi di questa sezione del forum:
Non puoi
rispondere agli argomenti in questo forum